Émissions Spéciales Disney
Walt Disney s'essaie au média télévision dès 1950 en prenant les rennes d'une émission spéciale : One Hour in Wonderland. Le show possède déjà tous les ingrédients qui feront, pendant des années, la renommée de ses programmes hebdomadaires. Une deuxième tentative avec The Walt Disney Christmas Show finit, en effet, de le convaincre, l'année suivante, de l'intérêt pour sa compagnie toute entière d'une présence récurrente sur le petit écran.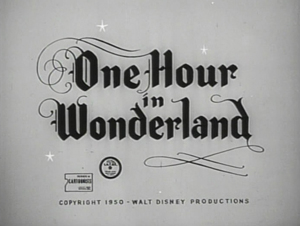 C'est chose faite avec son émission d'anthologie, première du nom, Disneyland. Durant des années, les studios Disney limitent ainsi leur présence dans la petite lucarne, à ce seul programme auquel ils consacrent toutes leurs productions télévisées. Il faut donc attendre l'arrêt de l'émission hebdomadaire, en 1983 et surtout l'arrivée d'une nouvelle Direction à la tête de la compagnie (dont le PDG Michael Eisner), pour que des shows soient de nouveau produits en masse par Disney. Le phénomène s'accentue jusqu'au milieu des années 90 puis décroit avec la renaissance de l'émission d'anthologie sur ABC, à un rythme hebdomadaire, ainsi que l'émergence de la chaine câblée "maison" Disney Channel.
La grande majorité des émissions spéciales proposées servent à promouvoir une activité de Disney : les parcs à thèmes (Disneyland Resort, Walt Disney World Resort, Disneyland Paris...), les personnages (compilations de cartoons...), les futures productions cinématographiques (La Belle et la Bête, Aladdin...), les futures séries télévisées (Bonkers, La Bande à Dingo...) et même les spectacles sur glace. La synergie des activités de The Walt Disney Company est totale.
Disney Parks Christmas Parade
001

Walt Disney World Very Merry Christmas Parade

Promotionnel • "Live" • 17 Émissions

1983 • 1999

Télévision
002

Walt Disney World Christmas Day Parade

Promotionnel • "Live" • 8 Émissions

2001 • 2008

Télévision
003

Disney Parks Christmas Day Parade

Promotionnel • "Live" • 5 Émissions

2009 • 2013

Télévision
004

Disney Parks Frozen Christmas Celebration

Promotionnel • "Live"

2014

Télévision
005

Disney Parks Unforgettable Christmas Celebration

Promotionnel • "Live"

2015

Télévision
006

Disney Parks Magical Christmas Celebration

Promotionnel • "Live" • 2 Émissions

2016 • 2017

Télévision
007

Disney Parks Magical Christmas Day Parade

Promotionnel • "Live" • 4 Émissions

2018 • 2022

Télévision
008

Disney Parks Magical Christmas Day Celebration

Promotionnel • "Live"

2020

Télévision
New True Life Adventures
001

Alaska : Dances of the Caribou

Documentaire • "Live"

2000

Télévision
002

Elephant Journey

Documentaire • "Live"

2000

Télévision
003

Sea of Sharks

Documentaire • "Live"

2000

Télévision
004

The Everglades : Home of the Living Dinosaurs

Documentaire • "Live"

2000

Télévision