Le 30 octobre 2012, à la surprise générale, George Lucas annonce avoir vendu son entreprise ainsi que la totalité des droits sur ses films, dont Star Wars et Indiana Jones, à The Walt Disney Company. La nouvelle fait l'effet d'une bombe chez les fans et les professionnels du cinéma. Cerise sur le gâteau, en même temps que le rachat, Disney annonce la sortie de Star Wars : Le Réveil de la Force pour 2015, premier volet d'une nouvelle trilogie que les fans n'attendaient plus...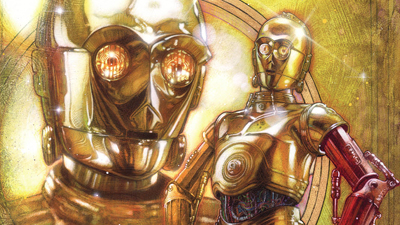 Pendant que l'équipe de production s'active à réaliser le film, le marketing de Disney et de Lucasfilm Ltd. préparent activement la sortie. Un des éléments remarquables de Star Wars : Le Réveil de la Force est en effet son marketing qui restera véritablement un cas d'école. The Walt Disney Company veut faire de la sortie du film un événement attendu ! Il faut d'abord ménager les surprises. La première décision prise par Kathleen Kennedy est donc de mettre fin à l'Univers Étendu afin de laisser les coudées franches aux scénaristes et les laisser partir d'une feuille blanche sans s'inquiéter de la cohérence de l'ensemble de l'univers. La décision est ainsi annoncée le 25 avril 2014. Seuls sont désormais officiel, les six longs-métrages ainsi que le film et la série The Clone Wars. Elle met également en place un story group qui surveille que tout ce qui sort soit dans la continuité officielle, les films bien-sûr mais aussi les romans, les comics, la télévision et les jeux vidéo. La toute première oeuvre de l'Univers Officiel est ainsi la nouvelle Escadron Blade suivie de peu par le comics Dark Maul : Fils de Dathomir, une des dernières oeuvres à sortir chez Dark Horse avant que Marvel reprenne le flambeau un an plus tard. Le premier roman de l'Univers Officiel, A New Dawn, parait lui le 2 septembre 2014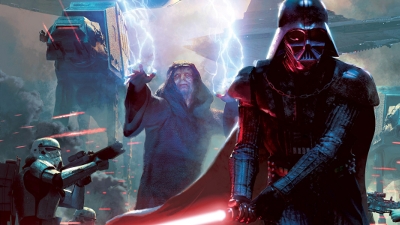 Comme l'ancien Univers Légendes, l'Univers Officiel peut être découpé en période, sachant que l'an 0 correspond à la bataille de Yavin dans Star Wars : Un Nouvel Espoir :
La Haute République de -380 à -82 remonte aux heures de gloire de la démocratie ;
La Chute des Jedi de -82 à -19 montre la prise de pouvoir des Sith ;
Le Règne de l'Empire de -19 à -8 raconte les années noires de Palpatine ;
L'Ère de la Rébellion de -6 à +4 retrace les batailles de la Guerre Civile Galactique ;
La Nouvelle République de l'an +4 à l'an +31 narre les événements après la chute de l'Empire ;
L'Ascension du Premier Ordre à partir de l'an +33 traite des combats contre le Premier Ordre.
Ci-dessous, la liste accessible par le bouton Chronologie Complète (qui est aussi la liste affichée par défaut) reprend toutes les œuvres dites officielles dans leur ordre chronologique narrative dans l'Univers Star Wars, et non dans l'ordre de parution, comme c'est le cas dans les autres listes proposées dans le chapitre de la littérature Star Wars. Même si elle n'est pas exhaustive, elle permet de réellement approfondir sa connaissance de la riche mythologie starwarsiène et d'en proposer une découverte chronologique.
La liste accessible par le bouton Chronologie Audiovisuelle permet, elle, de savoir où se situe tel film, téléfilm ou série au sein de l'univers Star Wars et donc de choisir son rythme et son ordre de visionnage. Cette chronologie, établie suivant l'ordre des événements narratifs, permet de rajouter les œuvres télévisuelles tout en proposant un ordre cinématographique différent de celui venu de la sortie des films ou de celui séparant la saga numérotée des spin-off.
Hors Chronologie
Contes et Autres Univers
002

008

Dark Legends

Science-fiction

2022

Contes
003

008

Life Day Treasury : Holiday Stories From a Galaxy Far, Far Away

Science-fiction

2021

Contes
006

001

Star Wars : Visions

Manga

2023

BD
007

002

Star Wars : Visions - Volume 2

Animation 2D / Animation 3D / Animation Image par Image

2023

Disney+